Certified Home Health Aide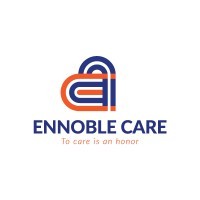 Ennoble Care
Alpharetta, GA, USA
Posted on Wednesday, November 15, 2023
About Us
Ennoble Care is a mobile primary care, palliative care, and hospice service provider with patients in New York, New Jersey, Maryland, DC, Virginia, and Georgia. Ennoble Care's clinicians go to the home of the patient, providing continuum of care for those with chronic conditions and limited mobility. Ennoble Care offers a variety of programs including, remote patient monitoring, behavioral health management, and chronic care management, to ensure that our patients receive the highest quality of care by a team they know and trust. We seek individuals who are driven to make a difference and embody our motto, "To Care is an Honor." Join Ennoble Care today!
Ennoble Care believes giving care is an Honor
We are looking for a compassionate, dedicated Certified Home Health Aide (CHHA) or Certified Nursing Assistant (CNA) to join our growing Hospice Company for our Alpharetta, GA region.
Duties
The caregiver (CNA or CHHA) will be responsible for:
Care for census of 5-6 patients

Provides or assists in ADL activities; personal hygiene, grooming, mouth, skin care and nails.

Provides assistance in toileting, positioning and transfer activities, frequent turning and positioning of a bed bound resident/patient.

Assists with the prescribed exercise and ROM activities which the resident/patient and Hospice aide have been taught by the Hospice Nurse.

Assists with light housekeeping of individual's personal unit or room, including changing of bed linen and patient's laundry.

Feeds and assists with meals.
Reports any changes in resident's/patient's condition to the Nurse
About You
Must have a valid GA CHHA or CNA license

Valid Driver's License and reliable mode of transportation
Authorized to work in the United States
English fluency is not required; Se Habla Español
Must be fully vaccinated against Covid-19
Full-time employees qualify for the following benefits:
Medical, Dental, Vision and Life insurance
Paid Time Off accrual
Paid Office Holidays
All employees qualify for these benefits:
Paid Sick Time
401(k) with up to 3% company match
Referral Program
Payactiv: pay-on-demand. Cash out earned money when and where you need it!
Ennoble Care is an Equal Opportunity Employer, committed to hiring the best team possible, and does not discriminate against protected characteristics including but not limited to - race, age, sexual orientation, gender identity and expression, national origin, religion, disability, and veteran status.