Care Coordinator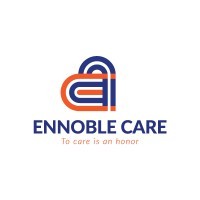 Ennoble Care
Customer Service
Sandy Springs, GA, USA
Posted on Sunday, October 22, 2023
About Us
Ennoble Care is a mobile primary care, palliative care, and hospice service provider with patients in New York, New Jersey, Maryland, DC, Virginia, and Georgia. Ennoble Care's clinicians go to the home of the patient, providing continuum of care for those with chronic conditions and limited mobility. Ennoble Care offers a variety of programs including, remote patient monitoring, behavioral health management, and chronic care management, to ensure that our patients receive the highest quality of care by a team they know and trust. We seek individuals who are driven to make a difference and embody our motto, "To Care is an Honor." Join Ennoble Care today!
Job Description:
This position is responsible for ensuring Ennoble Care is providing high quality care services. They work with clinicians, staff and patients to reach healthcare goals and keep the lines of communication open. As a care coordinator you should be compassionate, experienced, and highly organized. In this role, you will play an important part in our ability to provide exceptional care by managing the individual care providers, including scheduling and providing support for the caregivers and families.
Responsibilities:
Complete individualized patient care plans and perform care management and care coordination services using Ennoble Care's electronic medical record system
Frequent contact with patients to provide care coordination, support, and manage compliance with the care management programs to increase positive outcomes
Document all client communications (verbal or written) accurately
Communication to and from Primary Care Clinician or designee regarding patient emergent needs and/or life-threatening episodes and to ensure comprehensive care plans are complete and accurate
Keep Team Supervisor informed of all issues pertinent to the care plan process and any known or perceived issues
Demonstrate ability to work with various cross-organizational areas to meet the needs of Ennoble Care's patients, their family members, and partner facilities
Become skilled at using technology including secure email, telephone system, electronic medical records, etc.
Adherence to documentation protocols and best practices for daily work logs, escalation of client issues, and internal communications
Excellent customer service skills demonstrated by positive feedback from customers and patients
Contribute as a positive member of the department by supporting all members of the team in a productive and constructive manner
Equipment Operation:
Utilization of a computer, telephone, copy machine, and other office equipment as necessary
Qualifications:
Must be comfortable with speaking on the phone for large amounts of the day
Must be compassionate and empathetic towards our patients, always demonstrating exceptional customer service
Ability to take accurate notes to document each task in a timely manner
Ability to multitask between different patients and workstreams while remaining organized and efficient with time
Ability to thrive in a fast-paced environment
Must be able to work from 8:30 – 5:30pm, Monday through Friday
Must be proficient in using a computer, including Outlook and other Microsoft Office programs
Knowledge of basic healthcare terms, conditions, roles, and basic care principles is helpful
Candidate must be able to pass a drug screen, background check, have a positive attitude, adapt positively to change, be a team player, and be willing to learn new skills on a continuous basis.
Hourly Pay Rate: The pay range for this role is $16 to $18 per hour based on experience.
Full-time employees qualify for the following benefits:
Medical, Dental, Vision and Life insurance
Paid Time Off accrual
Paid Office Holidays
All employees qualify for these benefits:
Paid Sick Time
401(k) with up to 3% company match
Referral Program
Payactiv: pay-on-demand. Cash out earned money when and where you need it!
Ennoble Care is an Equal Opportunity Employer, committed to hiring the best team possible, and does not discriminate against protected characteristics including but not limited to - race, age, sexual orientation, gender identity and expression, national origin, religion, disability, and veteran status.