Behavioral Health Specialist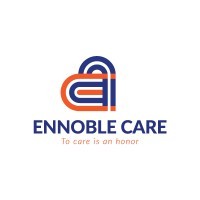 Ennoble Care
Baltimore, MD, USA
Posted on Friday, September 1, 2023
About Us
Ennoble Care is a mobile primary care, palliative care, and hospice service provider with patients in New York, New Jersey, Maryland, DC, Virginia, and Georgia. Ennoble Care's clinicians go to the home of the patient, providing continuum of care for those with chronic conditions and limited mobility. Ennoble Care offers a variety of programs including, remote patient monitoring, behavioral health management, and chronic care management, to ensure that our patients receive the highest quality of care by a team they know and trust. We seek individuals who are driven to make a difference and embody our motto, "To Care is an Honor." Join Ennoble Care today!
Ennoble Care is seeking an experienced Full-time Behavioral Health Specialist for our hospice department within and around the Baltimore, MD region. This position will be a hybrid role with the following job duties and responsibilities:
RESPONSIBILITIES
Provide Medical Social Services to the patient and/or family according to the Plan of Care.
Conduct a psychosocial assessment as part of the comprehensive assessment within 5 days of admission to the hospice program. This includes emotional, social, financial and environmental resources and to identify appropriate psychosocial problems, interventions and goals for the patient's plan of care.
Participate in IDG meetings and the development of the patient's plan of care.
Observe, record and report changes on the patient's emotional and social factors that are being affected by the patient's illness and his/her need for care and his/her response to treatment.
Maintain and submit written clinical records as deemed by the Agency, including the initial evaluation, the care plan and daily notes.
Evaluate the patients and family's response to, and effectiveness of, the medical social work intervention.
QUALIFICATIONS
The Behavioral Health Specialist is an individual licensed by the MD State Board of Social Work Examiners
At least one year of post-master's social work experience in a health care setting
Hospice experience preferred.
Must be a licensed driver with an insured automobile in good working order.
The ability to communicate well, both verbally and in writing.
Full-time employees qualify for the following benefits:
Medical, Dental, Vision and Life insurance
Paid Time Off accrual
Paid Office Holidays
All employees qualify for these benefits:
Paid Sick Time
401(k) with up to 3% company match
Referral Program
Payactiv: pay-on-demand. Cash out earned money when and where you need it!
Ennoble Care is an Equal Opportunity Employer, committed to hiring the best team possible, and does not discriminate against protected characteristics including but not limited to - race, age, sexual orientation, gender identity and expression, national origin, religion, disability, and veteran status.